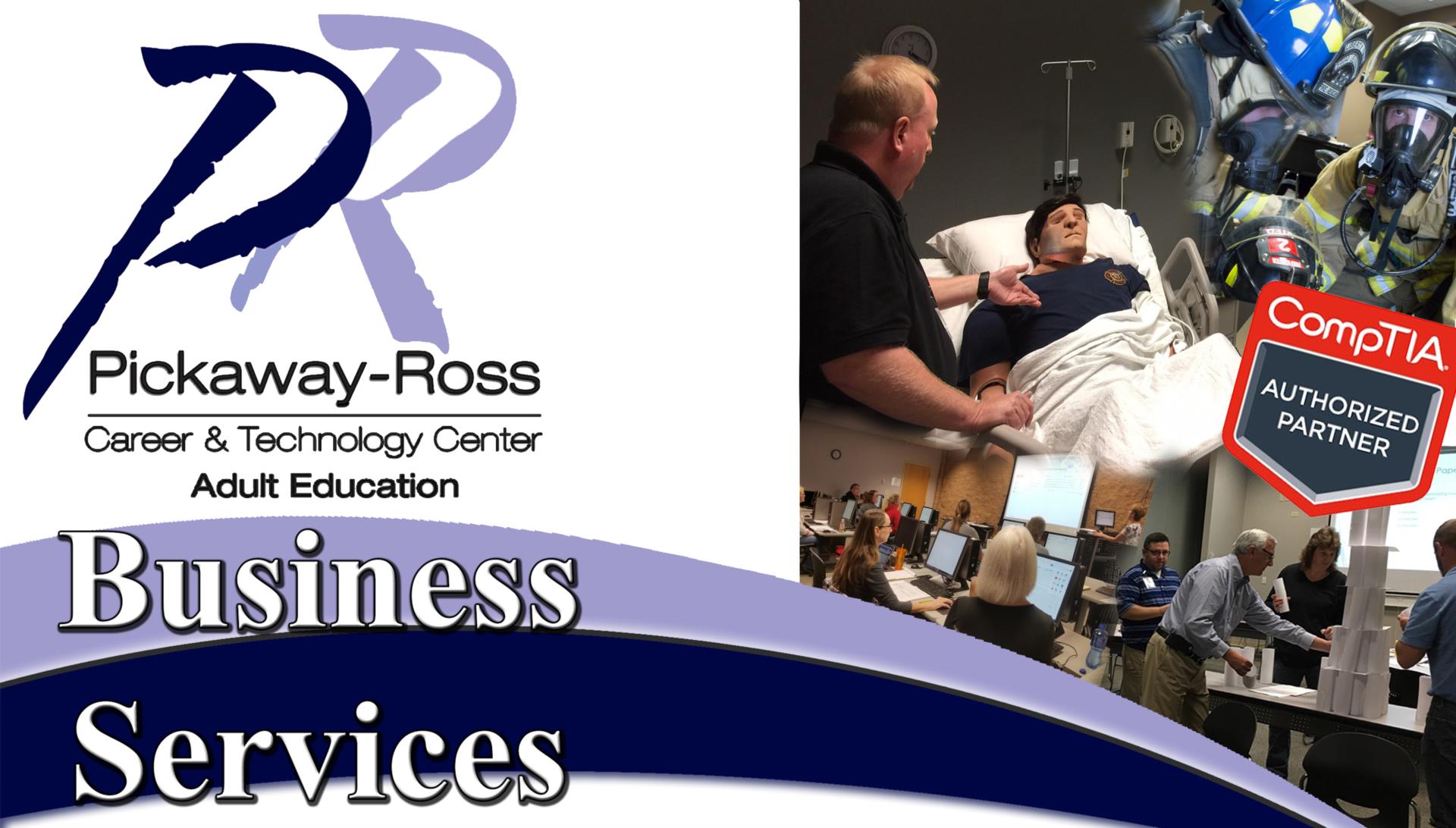 Doing more in less time and at a lower cost is essential in today's business world. Employers and employees demand products and services that are both practical and applicable.
Pickaway-Ross CTC consultants work with you to develop an instructional program, training session, workshop and/or testing tailored to your organization's unique needs and situations.
Conducted by experienced professionals, all classes can be taught at your location or at one of ours during the day or evening.
We offer customized, quality training based on practical techniques that immediately improve employees' skills from basic software instruction to pre-employment testing. Our programs and services address key areas in your business and present straightforward, affordable training solutions.
Diversified Training and Consulting
Pickaway-Ross CTC can customize training to meet your company's needs. Customized training can be performed across all shifts and can be conducted at any appropriate site.
Examples of training topics are:
Programmable Logic Controllers

Electrical and Electronics

Instrumentation

Welding

HVAC and EPA Certification

Mechanical Maintenance

Hydraulics/Pneumatics

Drives and Coupling Alignment

Maintenance Systems

and additional training that will lead to a National Manufacturing Certification (MSSC).
Health Technologies Coordination
Do you need staff development from a dynamic, cost-effective source?
The Health Technologies programs of PRCTC offer classes that enable healthcare agencies to meet the demands of a changing market.

Through personal assessment of your needs, the Health Technologies team will customize a curriculum for you. PRCTC is accredited as a provider of continuing education in nursing.

Classes available include:
CPR/First Aide

Licensed Staff Development

Occupational Health Staff Development

OSHA Requirements for Bloodborne Pathogens and Substance Abuse Recognition in the School and Workplace
Customized Pre-Employment and Assessment Services
The PRCTC Assessment Center has access to thousands of standardized test instruments to assist employers in the areas of:
Employee selection

Employee Training

Employee Promotion

Employee Certification
A variety of testing methods (paper & pencil, simulation and online) can be delivered at either our site or yours.

To find out how your company can benefit from these assessments or to discuss customized assessments that meet your company's specific needs, call us today!
Human Resource Development Training and Consulting
The Human Resource Development (HRD) staff works with local business and industry partners to develop and provide training to its team members in a variety of areas.
The HRD Coordinator and Instructors will work with company leaders to identify specific needs and develop targeted programs to improve skills, both leadership and technical. Topics previously presented include StrengthsFinder 2.0, Maximize Your Personal Style (DISC), Coaching and Motivating Employees, Outstanding Customer Service, Managing Job Performance, Progressive Discipline and Professional Behavior.

In addition to customized training, the Leadership Academy is presented on a regular basis. The topics focus on leadership skills for individuals already in a leadership role, or those aspiring to become a leader in the future. Each short-term training class is designed to prepare and equip employees for new and future workplace challenges.
Pickaway-Ross Career & Technology Center will continue to offer its innovative leadership program. Focused on preparing today's business and industry leaders for the unique challenges of tomorrow's global economy, the Leadership Academy can benefit you no matter what your position. This program is for you whether you are already in a leadership role or are working your way up the corporate ladder.
For more information, please call (740) 642-1365.
Let us go to work for your business!
Let us go to work for your business!
Call us today at (740) 642-1365.