The Zane Trace FFA chapter's 45th annual Sausage Breakfast on Feb. 3 raised $5,465 in donations at the door from FFA members serving 768 breakfasts.
Local businesses, farmers and individuals also donated funds to help the chapter buy groceries and supplies.
That morning, the Veterans of Foreign Wars Post 108 of Chillicothe presented a check for $3,000 to the chapter to support the breakfast.
Funds raised through the breakfast will be used to make blankets to donate to Nationwide Children's Hospital and to support the Pete Dunkle Scholarship Fund, Ohio FFA Foundation and Ross County Junior Fair Livestock Skillathon.
A lot of hard work went into planning this event as members and adult farmers worked all week to prepare the sausage from eight hogs, set up the dining area and serve the meals.
"We are extremely happy with this year's outcome," said Braylee Burkitt, Zane Trace FFA chapter president. "We almost set a record for attendance and donations and want to thank the Zane Trace community for coming out to support us."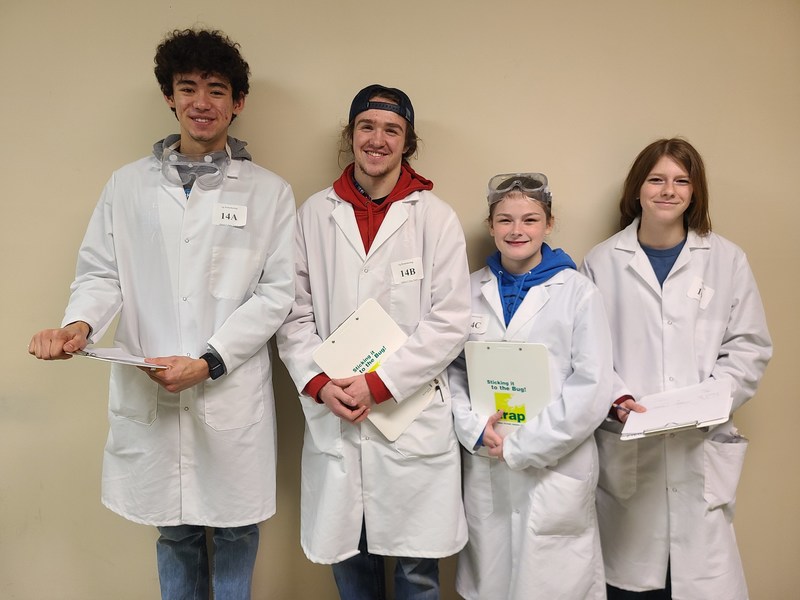 In January, four members of the chapter went to the Green County Fairgrounds in Xenia to compete in the Ohio FFA Biotechnology Career Development Event.
Wyatt Vick, Charley Clyne, Sarah McGraw and Caitlin DiBenedetto (above, from left) competed to solve problems, identify equipment and perform practicums related to the analysis of DNA.
They also worked together as a team to prepare a presentation in response to a scenario involving biotechnology in agriculture.
The team placed ninth out of 20 teams that qualified for the state contest and earned a plaque.