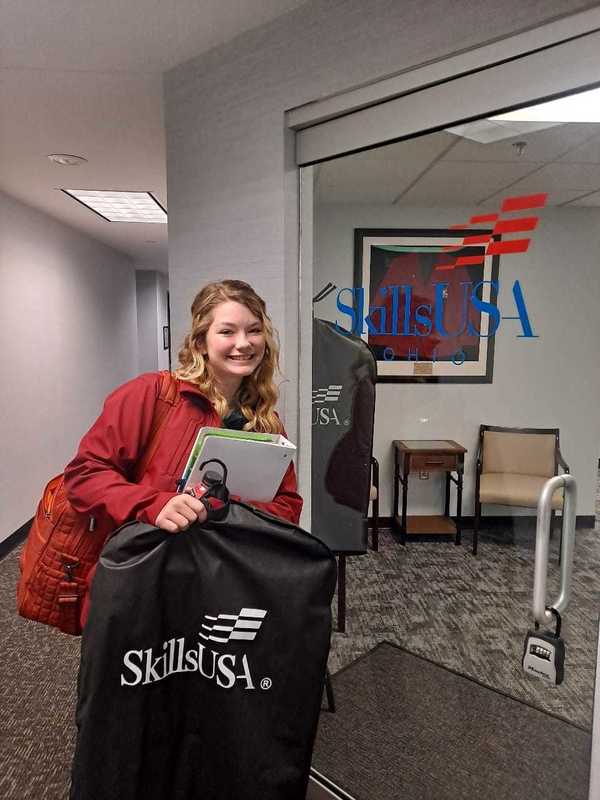 Ellie Ratliff, a senior in Health Science at Pickaway-Ross Career & Technology Center, has been named a semi-finalist in the U.S. Presidential Scholars Program, one of five in Ohio for career technical education.
Pickaway-Ross counselor Michelle Bochard nominated Ellie, whose home school is Southeastern, for being an excellent student, leader and asset to Pickaway-Ross.
"As a junior, Ellie was elected president of the school's SkillsUSA chapter by her classmates. She then became a regional and state officer for SkillsUSA, a first-time achievement at our school," Bochard wrote in her nomination. "Her professionalism, high standards and commitment to her career field undoubtedly paved the way for her achievements and contributions to our school and community. Ellie exemplifies what it means to be a career and technical scholar."
Ellie is quick to share her accomplishments with her fellow state officers, such as securing a $50,000 donation for SkillsUSA Ohio from Penske Truck, a major supporter of SkillsUSA.
"The state officers met with the CEO of Penske and he liked our presentation so much he gave us $50,000 to use this year for conferences," Ellie said.
Choosing a career pathway in health care, specifically mental health, comes from personal experience and a desire to help those dealing with mental illness.
For the past two years, with her SkillsUSA chapter members, Ellie has volunteered at the Chillicothe VA Medical Center Veterans Healing Garden to support veterans with PTSD, providing a safe and accessible environment. Her participation and leadership role helped the SkillsUSA Community Service team place first in the state competition.